There is no denying that the world is in a global learning crisis and children around the world are experiencing learning poverty.
According to the World Bank:
"All children should be able to read by age 10.  Reading is a gateway for learning as the child progresses through school—and conversely, an inability to read slams that gate shut.  Beyond this, when children cannot read, it's usually a clear indication that school systems aren't well organized to help children learn in other areas such as math, science, and the humanities either.  And although it is possible to learn later in life with enough effort, children who don't read by age 10—or at the latest, by the end of primary school—usually fail to master reading later in their schooling career."
Learning poverty means being unable to read and understand a simple text by age 10.
We know first-hand from our work in Sub-Saharan Africa that early childhood literacy is key. The number of children experiencing learning poverty will surely rise in the wake of school closures caused by the global COVID-19 pandemic. At the peak of the pandemic this past spring, 1.6 billion children were out of school. Today 700 million students worldwide remain out of the classroom.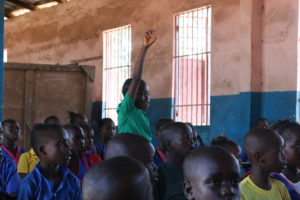 In December, the World Bank released a report titled "Realizing the Future of Learning: From Learning Poverty to Learning for Everyone, Everywhere." The report calls on countries, policymakers, and stakeholders around the world for urgent action to help realize a new vision for education: "one in which learning happens for everyone, everywhere."
The World Bank is encouraging we all work together and strive to cut the Learning Poverty Rate -the fraction of 10-year-olds in low and middle-income countries who cannot read and understand an age-appropriate text – by at least half before 2030. If this is not achieved, the world will not meet the Sustainable Development Goal (SDG) #4 of "ensuring inclusive and equitable quality education and promoting lifelong learning opportunities for all" by 2030. This is just one of the 17 interlinked goals agreed to in 2015 by the United Nations General Assembly.
The World Bank notes that to accelerate progress toward the eradication of learning poverty, there needs to be a renewed focus on ensuring:
Learning resources, including curricula, are diverse and high quality;
Learners are prepared and motivated to learn;
Schools are safe and inclusive spaces;
Education systems are well-managed and
Teachers are effective and valued
These areas of focus are tremendously well aligned with CODE's Theory of Change and our current programming priorities.
The need for more educational materials, especially in Africa is great. Only 3 percent of households in Sub-Saharan Africa own more than two children's books, and there are significant shortfalls of reading materials in classrooms. The World Bank says it is committed to promoting the development of local educational publishing industries to broaden the availability of locally relevant reading materials.
Another area of common interest for CODE and the World Bank is ensuring the next generation of teachers receive quality training that will help them in the classroom. An overwhelming number of countries have found the training aspiring teachers are receiving isn't enough. In other words, pre-service teachers are not given the opportunity to practice and refine their new skills and competencies in classroom settings and are entering the profession without any practical experience. CODE's programs, most notably BETTER (Better Education through Teacher Training and Empowerment for Results), works to address this challenge – working with teacher training institutes to afford teachers-in-training meaningful practical experience such as through our "One Preservice Teacher – One Child" literacy mentoring initiative.
The report emphasizes and reminds us that learning poverty is an ongoing issue and now more than ever needs to be addressed. For those of us working in the sector we need to put our best foot forward and use this opportunity to evoke change. CODE and the World Bank are aligned when it comes to solutions. We are striving to become more innovative and are continuing our close relationship with our in-country partners to develop ideas that work for them, region by region and country by country.
Leaners, especially girls and young women, are the of focus of our efforts. They cannot get lost in the shuffle. The UNESCO Institute for Statistics estimates 16 million girls will never set foot in a classroom again. Girls and young women face greater adversity in getting an education as they could face early marriage, gender-based violence and or adolescent pregnancy. In all of this planning and progress, they cannot be forgotten.