We are fortunate to partner again with CODE in Liberia, where we hope to repeat the success of the program we helped finance two years ago. CODE has a proven track record – over 60 years of working in the developing world to improve literacy skills.
Due in part to the civil war legacy of disrupted school enrolment, and the more recent Ebola crisis, the challenge of over-age girls in early grades is particularly acute in Liberia. Without academic support and encouragement, these girls are at a high risk of dropping out of school. With the recent school disruptions in Liberia caused by the COVID-19 pandemic this issue could become even more acute.  We know, as does CODE, that healthy, safe, empowered girls transform families, communities, and countries.
CODE's assessments conducted in 2016 showed that 66% of children, no matter their grade, were reading at a pre-primary level. The majority of these children were girls. The primary completion rate in Liberia is only 34%, but for poor girls in rural areas it's a dispiriting 14%. Pregnancy remains the number one reason why girls drop out, though there are many other cultural and poverty-related challenges that make it exceedingly difficult for girls to succeed in school.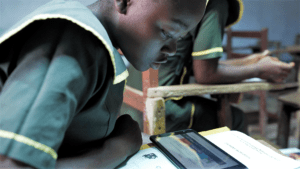 Our project this year will build on CODE's Girls' Accelerated Learning Initiative (GALI) program, funded by 60 million girls in 2018-2019, and will be implemented in the same 25 schools, targeting 375 girls. These over-age girls are presently enrolled significantly below their age-appropriate grade and are, in most cases, at a pre-primary reading level. They are typically 12-15 years old and are in grades 1-3, and are at high risk of dropping out, facing early marriage and pregnancy, and remaining illiterate and impoverished.
Our Mobile Learning Labs (MLL) will be used in this project. The RACHEL (Remote Area Community Hotspot for Education and Learning) is the heart of the MLL. It is a small server, or "hot spot", to connect to uploaded educational content with smartphones, tablets or laptop computers. The content is available offline on the RACHEL and connecting devices can be charged with solar panels in communities without access to electricity.
The MLL offers a rich and varied content of open-source learning tools and interactive academic games: content such as Wikipedia Academic, KA Lite (Khan Academy's offline source for math and science tutorials), Fantastic Phonics and Feed the Monster for literacy, as well as thousands of e-books, health encyclopedias, information on agriculture, geography, history, social sciences, and coding. In addition to academic content, the RACHEL also offers access to life skills information. The content of the RACHEL can be custom-loaded for each community's particular needs and can be modified at any time.
The MLL is particularly well suited to the GALI project. The girls can use the MLL to help them with their classwork or to research information relevant to their studies or to their personal needs. They are able to review lessons at their own pace and can revisit the material many times. In addition, the RACHEL will be preloaded with sources of vital health information. Often, girls are too shy to ask questions that are crucial to their well-being and the MLL will allow them to seek out the information in privacy. Greater knowledge, for example, about sexual and reproductive health will equip the girls to make more informed decisions for themselves and, in the future, for their families.
The technology behind the MLL will support the girls to reach their academic goals by giving them access to fun, interactive and up-to-date learning materials. Our evaluations of the MLL, now in place in over 20 countries, show that it increases self-confidence and intrinsic motivation in the children who access it – two keys to ensuring girls, and boys, enjoy learning, feel they can find information that is useful to them, stay curious with a strong desire to learn and therefore strive to remain in school despite all the challenges they face.
We are proud to be partnered with CODE again and to expand on the success of the Girls' Accelerated Learning Initiative with the integration of the MLL. We are pleased to be working in Liberia to keep over-age girls in school so they get the education they need for a better future. 
60 million girls is a Montreal-based public foundation dedicated to girls' education in developing countries.