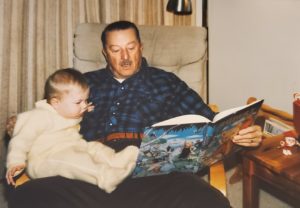 Some of my earliest childhood memories involved books and having story time, usually, before bed with my parents, our cherished babysitter, or my grandparents. I can still remember some of these tales word for word and many of these books have dog-eared pages as they were read repeatedly. There was nothing more exciting as a child than going to the library and coming home with a fresh stack of books to devour.
My personal experience, probably like many of you reading this, is that of a person who grew up in a privileged environment. All children around the world are not so lucky.
At CODE, we believe when you can read and write, you can do and be anything. We envision a world where every young person can pursue their education and realize their full potential as a literate, empowered, self-reliant citizen.
Raising a generation of readers means starting them young. In the developing world, according the United Nations Educational, Scientific and Cultural Organization we know that half of all children (ages 6-14) – 88% of children or 202 million – are not achieving the minimum proficiency levels in reading in sub-Saharan Africa, alone.
The benefits of reading in childhood are universal no matter where you live or your financial status. These are just some the benefits of raising an early reader:
Setting up children for success – Children are sponges. Why not help give them a leg up?
A workout for the mind – It is never too early to get those wheels turning.
Concentrate, concentrate – Being able to focus on one thing even just for a couple minutes at an early age is a skill itself. As children get older so too will their attention span.
Develop those language skills – Borrowing the lyrics from The Sounds of Music: "Let's start at the very beginning, a very good place to start." Remember the basics, the ABCs, letter sound and word recognition.
A thirst for knowledge – Leave your young reading fans wanting more. The more exposure to books and reading the better.
Imagination and creativity – Books have the power to take us to far away places where we can be superheroes or be dinosaurs. There are no limits on where the imagination can take us.
Social skills and interaction – Children can practice their listening skills with you as you read, and you can point and find objects featured in the book.
Diversity – While reading books with objects/characters or situations familiar to children, digesting books featuring a diverse cast of places, people and things opens a child's mind to a whole world of possibilities.
Building empathy – In the world we live in today there are a lot of big feelings floating around. Even the tiniest of tales can teach children about sharing, caring, death, illness etc.
A source of fun – Make story time part of your daily routine. If you are so inclined add songs, change your voice for different characters. The options are truly endless.
For me, the greatest benefit of why reading is important in early childhood is the building of lifelong memories and bonds created by the simple act of reading with my loved ones.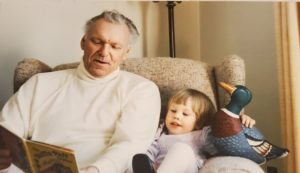 As I sat down to write this blog post I thought about the Rupert Annual my sister and I received every year (we still do to this day). The books are based on a British children's comic strip. You can opt to read the poem or full-length story version. Each book was a collection of smaller stories. When we were young, the trick at bedtime was to pick the longer version so we got to stay awake longer.
Then there was the Christmas Story. Starting some 30 years ago, my grandfather would read a modern version of the Christmas Story every year on Christmas Eve. He has since passed on but to this day my family still listens to the recording. It is our own tradition of sorts.
Perhaps it is not surprising that I now find myself the Communications Manager at CODE, an organization that promotes every child's right to read.  CODE truly sees literacy as the key to unlocking the potential in every child and believes that being able to read is a critical step in building a brighter future for all children.
In this wacky and crazy world, I encourage each one of you to pause and take some time to read with your child or a child in your life. In addition to all the benefits of reading in childhood, you could also be creating moments that will last a lifetime.