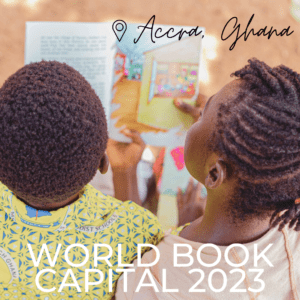 Published in partnership with the Global Book Alliance and the Ghana Publishers Association.
On the 24th of April 2023, Accra, Ghana will hold the Opening Ceremony of the Accra World Book Capital, 2023 at the Accra International Conference Centre. This Ceremony marks the handing over of the UNESCO World Book Capital City from Guadalajara, Mexico to Accra, Ghana. The term of Guadalajara ends on Sunday 23rd April 2023.
There are a lot of expectations for Accra. Firstly, there are programmes from the Ghana Publishers Association that have been submitted to the Accra World Book Capital Committee to integrate into the main yearlong programme. Secondly, the publishing industry in Ghana would seek to take advantage of this international platform to promote books, literacy and reading at all levels.
The president of the Ghana Publishers Association, Mr. Asare Konadu Yamoah noted, "The announcement of Accra to host the 2023 World Book Capital is seen as a goodwill gesture for the progress in our effort at building a vibrant book industry and the promotion of reading and literacy over the years. This will indeed not only help Ghana to pay tribute to our great literary figures but will also celebrate books and authors and encourage young people to discover the pleasure of reading. The selection of Accra as the 2023 World Book Capital is expected to galvanize the publishers and other book industry stakeholders to seize every opportunity for a fresh and bright future for the book industry and other stakeholder institutions."
The main objectives—aside from establishing literary legacy—include the procurement of adequate supplementary readers by both public and private organizations and institutions to improve book accessibility and reduce book ownership deficit, especially in the rural areas of the Greater Accra Region. Ghanaian publishers have published new titles in addition to the existing quality reading books for all levels of readership.
Events to be organized by the Ghana Publishers Association on the sidelines of the Accra World Book Capital, 2023 include:
Event
From
To
Place/town
Exact Venue
Online/
In-person
School Outreach Programme (in parternship with Accord Literary)
29/5/23
2/6/23

La and Accra

La, Wireless '2' JHS
In-person
School Outreach Programme (in parternship with Accord Literary)
29/5/23
2/6/23
La and Cantonments
La, Wireless '2' and Cantonments
In-person
Ghana International Book Fair
10/8/23
13/8/23
Accra
Accra International Conference Centre
In-person /Online
Book Exhibition
12/10/23
14/10/23
Accra
Madina
In-person
Book Donation
12/10/23
Accra
Ridge Hospital
In-person
Book Exhibition
16/10/23
Accra
Accra City Hotel
In-person
Book Bazaar
27/12/23
5/01/24
Accra
Accra Central/Kasoa
In-person