This video lesson and Take Action kit (including lesson plans) is an amazing global education resource available for all grade 5-9 teachers!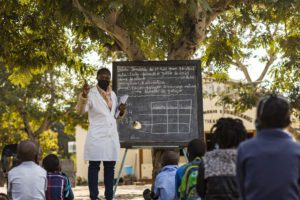 CODE is honoured to be collaborating with the Saskatchewan Council for International Cooperation (www.saskcic.org) to reach middle school students with information about CODE's work in Mozambique and how together we are working towards Sustainable Development Goal #4: Quality Education.
On November 18 and 19th, CODE Project Officer for Mozambique, Carolina Bastos, presented a lively and interactive presentation over Zoom to students at Regina Huda School and Ecole St. Mary – both located in Regina. This presentation was a great opportunity for these students to engage with CODE's mission to promote children's literacy around the world.
These resources are available for all teachers, and were developed for students in grades 5-9. Click the buttons below to download the Take Action Kit and watch the video recording. For more information, please contact Janet Phillips at jphillips@code.ngo.