Books are a great vessel to travel the world and make new discoveries.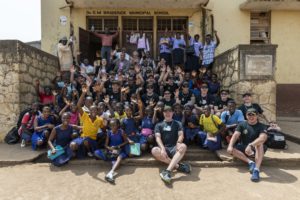 With that sentiment in mind, some crew members from the Royal Canadian Navy recently visited one of the schools where CODE works in Sierra Leone to share their love of reading with students.
Sailors from HMCS Glace Bay and HMCS Shawinigan were in the region as part of Operation PROJECTION. They were greeted by the headmaster of Dr S.M. Broderick School in Freetown and given a warm welcome by students which included a musical performance.
The guests then had the unique opportunity to see our work in action.
We recently launched the Transforming Girls Education Program in Sierra Leone which aims to improve reading and learning outcomes for vulnerable pre-teen and teenage girls in upper-primary grades. This program received $5-million from the Government of Canada through Global Affairs Canada in June.
We are working with TALLE, a non-profit organization of Language Arts teaching professionals in the country. TALLE was formed in 2004 and supports the Sierra Leone Ministry of Basic and Senior Secondary Education (MBSSE) and other education stakeholders to promote effective teaching and learning of literacy and numeracy skills.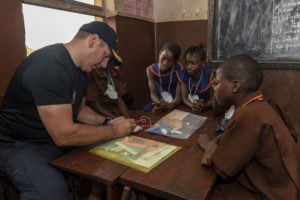 Sailors participated in reading activity with students featuring some of our childrens' books that have been previously developed with local authors and illustrators. Homemade bookmarks were also made. Staff and students greatly appreciated the donations of school supplies, first aid kits and soccer equipment. All in all a good visit was had by all and we wish the Navy members safe travels as they continue their tour of duty.
Photo credits: Cpl. Yongku Kang, Canadian Armed Forces.