In January 2020, the Gay Lea Foundation announced a $15,000 grant to CODE, a registered Canadian charity that has been championing every child's right to literacy for the last 60 years.
The Foundation's grant will support the Reading Ghana program – helping an estimated 2,000 disadvantaged girls and boys in rural schools in the country's Ashanti Region. Currently in its fourth year , the six-year program is designed to improve the instructional skills of teachers and provide high quality, culturally relevant reading materials. All program activities are conducted in coordination with the Ghana Education Service (the ministry of education).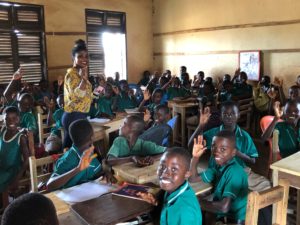 Written words are gateways to knowledge, empowerment, opportunity and are the way to a brighter future. Despite the many known benefits of literacy, in sub-Saharan Africa alone, 88 per cent of children (ages 6-14) are not meeting minimum proficiency levels in literacy.
In the past two decades, this West African nation has taken major strides toward democracy and economic development. At the same time, the benefits of stability and growth have not been equally distributed across the country. While efforts to increase children's access to education by eliminating school tuition feeds and increasing enrollment rates have been successful, the quality of education varies greatly and, in some cases, has declined in rural areas.
CODE has been working in Ghana for over twenty years in close collaboration with their local partner, the Ghana Book Trust. In Ashanti Region, only half of the teachers in rural areas have teaching qualifications and there is little or no access to reading and learning materials – meaning that  children are not given the opportunity to practice and develop literacy skills, let alone develop a love of reading and learning.
All too often, students aged 12-14 are dropping out of primary school or failing to advance to higher grades, many due to struggles with fundamental literacy skills. Only 41 per cent of primary level students advance to junior high school and only 11 per cent make it to senior high school. CODE's Reading Ghana program is improving the quality of education, helping children – especially girls – succeed and stay in school.
A child who can read and write is more likely, as an adult, to break the cycle of poverty, raise healthy and educated children, be an engaged citizen, and contribute to peace and gender equality. Education is transformational.
"My grandmother had no schooling and my mother only finished junior high school (the Canadian equivalent of Grade 8), so she did better, but I will do even better at school," said Whyteline, a junior high school student participating in the Reading Ghana program (pictured at right). She said she loves school and aspires to become a doctor.
HIGHLIGHTS OF THE 2019-2020 PROGRAM: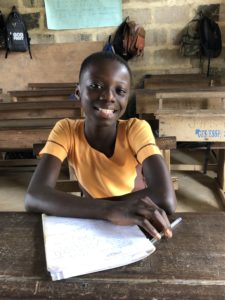 56 educators along with representatives from the Ghana Education Service are participating in intensive workshops
3200 high-quality, culturally relevant books are being distributed to schools
visits of a mobile library van provide more opportunities to access reading materials
the content of the books and workshops promote gender equality
reading competitions enhance interest in reading and attract attention of parents, community members and local chiefs
an analysis of reading assessments conducted during the first three years of the program yielded very positive results in terms of improved reading fluency and comprehension
"The Reading Ghana program is generating a lot of excitement as students benefit from access to quality learning materials and skilled teachers advancing their foundational literacy skills while realizing greater overall school success," said Scott Walter, CODE's Executive Director. "Delivering on this program requires strong partnerships and we are thrilled to have the Gay Lea Foundation joining with CODE to help make Reading Ghana possible."