We bump along on the road to Esaase. Almost two hours ago we left Kumasi, Ghana behind. The road is paved but huge potholes force the driver to slow down or swerve around them. This is farming country. Banana, plantain, cassava, maize and yam plants give you a good idea of peoples' diet. Once in a while we pass through a small village where tiny shops and kiosks sell household items, foodstuffs and cell phone top-up cards.
The schools CODE and its partner the Ghana Book Trust (GBT) are supporting are remote and it seems we will never get there, but we do. We finally pull up under the mango tree in front of the school and stumble out, goats and chickens scattering. The headmaster appears and welcomes us. Behind him, children in their dark green school uniforms try to get our attention but are swept back into their classrooms by their teachers. It's hard to be discreet when you are obviously not from around here.
This is Jeninso Primary School – one of the new schools that we will be supporting this year. In July, staff from the Ghana Book Trust came to introduce the program to the community and the school leadership. Now that the students are back in school, GBT is conducting baseline reading assessments with students. Eight children from each grade will be randomly selected to participate. This information will constitute the baseline against which changes in reading fluency and comprehension will be measured.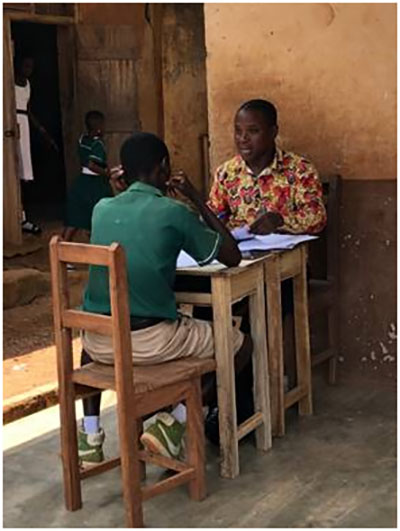 The staff and community are very excited about the program. At this very moment the school librarian is attending a Librarian Management Workshop in Kumasi. The Library Management Training is part of the CODE project, and facilitated by trainers from Nkrumah University and the Ghana Library Authority. The schools don't actually have many books – certainly not enough to constitute a library by Canadian standards. But books are part of the program, and in November GBT will be delivering the first tranche of books that are produced in Ghana by Ghanaian writers, illustrators, editors and publishers. CODE carefully selects and purchases high-quality and culturally relevant books in Ghana that support the fledgling book industry – ensuring that children have books that feature their own culture and experiences.
The head teacher, Mr. Boake Marfo Anthony, told me that currently the school is seriously under-resourced. "We have no books except textbooks, and even then, four kids share one textbook. The teachers do their best but they need more training to be able to effectively use the correct teaching methods."
Class 5 teacher, Florence Amoah, says teaching is her calling. She chose this profession because she loves it.  She feels so proud when a child does well. She tries to look out for the child who is not doing well but that is difficult in a class of more than 60 children. She is excited about attending the CODE teacher training program, to learn different strategies of teaching and how to apply them in the classroom.
Class 4 teacher, Elizabeth Amankwaa has been teaching for five years at Jeninso and is excited at the prospect of professional development. She told me that in order for a child to get a good education, you not only have to teach the child but you have to teach the parents how to support the child.
I was so inspired by these educators. They are already working hard on behalf of their students and if they are equipped with enhanced skills and strategies and great books, then the children of Jeninso have a good chance of developing their potential and growing up into empowered literate citizens of Ghana.