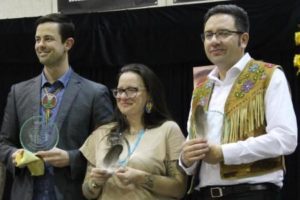 Thousands of copies of the three winning titles of the CODE Burt Award for First Nations, Inuit, and Métis Young Adult Literature will be distributed to youth through this unique literary award's book purchase and distribution program.
Ottawa, November 2018 —
Cherie Dimaline's book, The Marrow Thieves (Dancing Cat/Cormorant Books) received the 2018 Winning prize of $12,000.00 during the 6th Annual CODE Burt Award for First Nations, Inuit, and Métis Young Adult Literature Award ceremony held in Kitigan Zibi, Quebec on Wednesday, November 28, 2018. Fire Song by Adam Garnet Jones (Annick Press) and The Journey Forward: Two Novellas on Reconciliation by Richard Van Camp and Monique Gray Smith (McKellar and Martin) both received the 2018 Honour Book prizes worth $2,000.00 each. All three books will be purchased by CODE with 2,500 copies of each book being distributed for free to schools and libraries across Canada.
"CODE is delighted to once again recognize works of excellence by First Nations, Inuit, and Métis creators," said CODE Executive Director, Scott Walter. "These compelling stories are helping change and enrich the literary landscape in Canada while fostering new understandings of the relationships between the Indigenous and non-Indigenous inhabitants of Turtle Island.  CODE is proud to support these great books, but even more satisfying is the knowledge that through our guaranteed purchase they will be made accessible to Indigenous youth, right across the nation."
This year, the award ceremony was hosted by the Kitigan Zibi Kikinamadinan (School) located within the Kitigan Zibi Anishinabeg community adjacent to Maniwaki, Quebec. CODE was honoured to be invited into the community to help us celebrate this year's authors and their books. Over 200 students and teachers attended the event. It was an exciting and energizing day with creative writing workshops, readings and presentations, and the award ceremony. Jay Odjick, artist, writer and television producer from the Kitigan Zibi Anishinabeg community co-hosted the event along with Julia Caron, from CBC.
The CODE Burt Award for First Nations, Inuit, and Métis Young Adult Literature is a Canadian literary award and readership initiative that recognizes excellence in Indigenous-authored literature for young adults (ages 12-18). The objective of the prize is to champion literacy, build language skills and foster the love and habit of reading by ensuring that young people across Canada have access to high quality, culturally-relevant and engaging reading materials. The award program is made possible by the generous support of Canada's Literary Prizes Foundation and the legacy of William "Bill" Burt.
The award is the result of a close collaboration between CODE and the Assembly of First Nations, the Métis National Council, Inuit Tapiriit Kanatami, the National Association of Friendship Centres, the Association of Canadian Publishers, GoodMinds, and Frontier College, and the National Reading Campaign.
The CODE Burt Award is a global readership initiative and is also currently running in Ethiopia, Ghana, Kenya, Tanzania and the Caribbean.
For further details on the Burt Award for First Nations, Inuit, and Metis Young Adult Literature, please visit this page.