… and it starts with tonight's ceremony for the CODE Burt Award for Caribbean Young Adult Literature.
NGC Bocas Lit Fest is one of the Caribbean's largest and most well-respected literary festivals. Led by Founder and Director Marina Salandy-Brown and a dedicated team of staff and volunteers, the festival recently wrapped up its eighth successful year in Trinidad and Tobago's capital, Port of Spain.
Helping to nurture and grow what has become an incredibly fruitful five-year partnership between CODE and Bocas Lit Fest is most certainly one of the highlights of my career. Marina and her team work tirelessly with local, regional, and international partners to showcase the Caribbean's rich literary past, nurture the development of new and emerging Caribbean writers, and support reading initiatives and literacy programs for all ages. It is not a stretch to say that few festivals do quite so much to champion Caribbean reading and writing as the NGC Bocas Lit Fest.
The NGC Bocas Lit Fest also partners with many high-profile international festivals and literary organizations such as the Man Booker Prize, the Windham Campbell Prize, Commonwealth Writers, and the British Council. They all work together to build an exceptionally well-curated programme of award ceremonies, panels, workshops, readings, performances and films at the annual five-day festival, and throughout the year.
So, after a nearly three-year absence, it was my pleasure and honour to return to Port of Spain to visit my friends at Bocas and to help CODE announce the 2018 award-winning titles. This year's event was hosted at the NGC Bocas Lit Fest's new Writer's Centre where we were joined in celebration by special guests, the High Commissioner of Canada, Her Excellency Carla Hogan Rufelds; Trinidad and Tobago's Minister of Community Development, Culture, and the Arts, the Honourable Dr. Nyan Gadsby-Dolly; and the Head Judge of the 2018 jury, Janet Smyth, along with over 50 other guests and festival attendees. Imam Baksh, an engaging and talented young writer of sci-fi and fantasy from Guyana, won the night (and his second CODE Burt Award) for his manuscript The Dark of the Sea. Shakirah Bourne (Barbados) and Elizabeth J. Jones (Bermuda) were also honoured for their winning manuscripts, My Fishy Stepmom and A Dark Iris.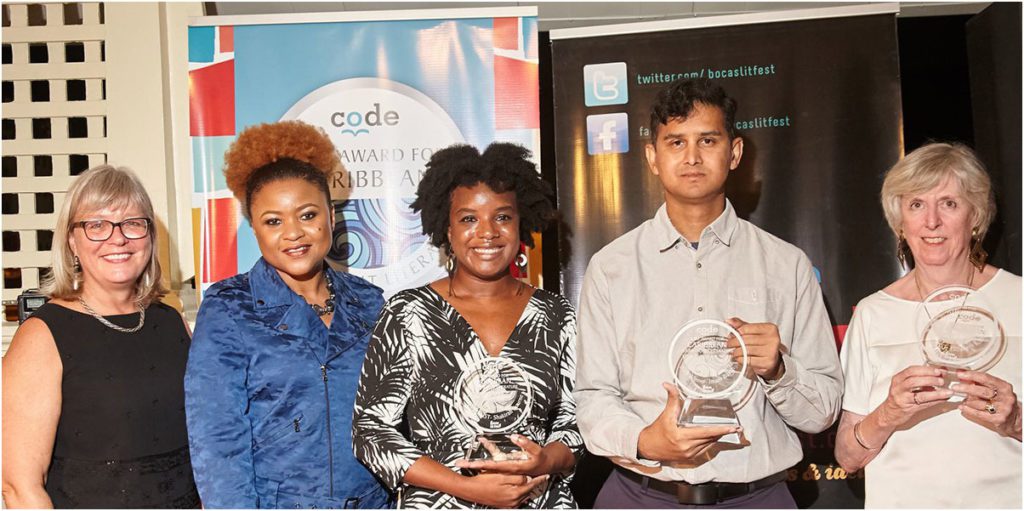 Mr. Bill Burt, who sadly passed away in November 2017, was very fondly remembered at this year's event. Every time I talk about Bill or explain how the CODE Burt Award works, people were astounded by his generosity and by the brilliance of the program he founded with CODE. And while saddened by his passing, everyone was grateful to learn that the CODE Burt Award will continue and that Bill's legacy of supporting reading and YA literature in the Caribbean will live on. Bill would have been quite pleased with this year's' winners. Shakirah Bourne's winning story, for example, was described by one of the judges as a heartwarming and brilliant "Nancy Drew-inspired tale." Marina and I smiled at each other when we heard that, both of us remembering Bill's love for Nancy Drew and the Hardy Boys and his dream for the Award. Shakirah, like many before her, also admitted to writing her story specifically for the CODE Burt Award. Now she has an agent, a publishing deal, and a brilliant writing career ahead of her — everything that we knew Bill wanted for his "Young Adult Literature Prize."
I am looking forward to seeing this year's manuscripts turned into books, published and distributed in the Caribbean!