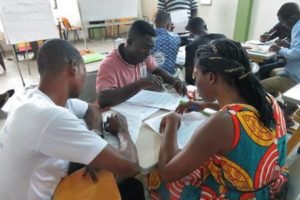 I look around the room. Here I am in Kumasi Ghana with a dozen primary and middle school teachers and their trainers. We are here as part of Reading Ghana, an Asanko Gold and CODE co-funded project implemented by CODE together with the Ghana Book Trust, (CODE's partner since 1990), in support of literacy in the Ashanti region of Ghana.
The workshop participants are part of the second cohort of teachers to be trained as part of the project. They are practicing strategies for teaching reading and writing in their classrooms.
I watch them practice. The idea is to promote learner-centered, participatory approaches to teaching. And so, in the spirit of participation, the teachers are taking turns practicing the approaches as the remainder of the group pretends to be students – participating in the lesson, asking questions, sometimes even given the teacher at the front a little bit of a hard time.
It's easy to forget that the workshop participants are in fact teachers and not students themselves. I look around the room again. They are a young bunch. Bridget, the sole woman in the group, is just 25. She earned her teaching diploma last year and has just begun teaching grade 4.
I know things, and I want kids to know things. Education is important."
–Bridget, Ghanaian Teacher
I ask her what it's like to be the only woman in the group. She smiles. She is used to it. At her school, there are 17 teachers. Just five are women. Women aren't frequently assigned to the remote areas like the one where she works. It's dangerous, it's far, the conditions are difficult. I ask her why she teaches there. Again, she shrugs, "I know things, and I want kids to know things. Education is important." We talk some more. Even Bridget admits that while she is satisfied with her work and school, she is not sure how long she will want to stay in a remote place or in a profession which doesn't pay too well and isn't often revered by the community.
I ask her what she thinks of the workshop. "It's good. I like it." She goes on to say that it brings together teachers from different schools but in similar situations. They talk, they form a community of practice. They relate to each other and learn from each other. "I feel like I am part of something," she says.
Will the training be enough to keep Bridget teaching? It's hard to say. But it has already made an impact. I watch how excited she is, and how excited her peers are. I am confident they will give these new strategies a try in their classrooms. (Our experience with the first cohort tells us they will). I am also confident that we are beginning to build a sense of professionalism among the teachers. They see themselves not as 'just the teacher' but as people who will shape the opportunities and the futures of the children in their classrooms. They begin to see what is possible – from their peers, from their trainers (each of whom has made a career in education), from the changes they will see in the students.
I told Bridget that what she is doing is important. "You're a role model, you know, to girls in your classroom. They don't have many opportunities to see a strong, educated woman. You can inspire them. You can teach them. You can make a difference." I say it because I believe it. Bridget is making a difference. Reading Ghana is making a difference.