Reading Ghana
(2016-2022)
Reading Ghana is reaching thousands of children and educators – and over the next several years will see dramatic impacts.
In the past two decades Ghana has taken major strides toward democracy. Yet the benefits of this stability and growth have not always been equally distributed across the country. CODE's work focuses on the Ashanti Region – chosen as a result of an assessment which revealed poorly trained teachers, inadequate reading and learning materials, and poor learning outcomes.
By 2022, we aim for 12,800 Ghanaian children to have benefited; more than 184 educators to have upgraded their qualifications in the teaching of reading and writing; and a cohort of highly trained, local teacher-educators to have been developed. This program will furthermore distribute more than 18,000 high quality children's books along with materials to guide teachers in their use.
Investments in teacher training – including intensive workshops and in-class mentorship – complemented by the availability of high-quality and culturally-relevant reading materials are expected to result in improved literacy rates for girls and boys.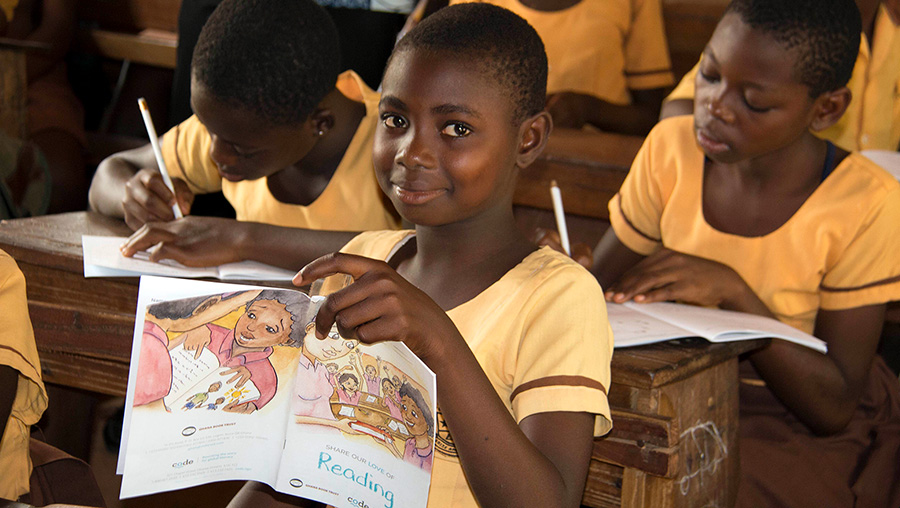 CODE's implementing partner, the Ghana Book Trust (GBT), with whom we've worked for more than 20 years, is central to the success of the Reading Ghana Program. Their depth of knowledge of local issues and long history of accompanying the processes of local development, and being integrated into the daily life of the communities are essential conditions for the successful implementation of the program and its sustainability.
Over the years, GBT has evolved to include more focused programming which supports children's literacy while at the same time continuing to meet the huge demand for books in Ghana.
Funding Partners
Reading Ghana is funded by Asanko Gold Ghana, with additional support granted by various CODE supporters, including individuals, family foundations and corporate partners.