As the saying goes "education is better than silver and gold."
That is what 24-year-old Ritta wrote in her application when she applied for a scholarship as part of CODE's  Transforming Girls Education Program  (TGEP) in Sierra Leone. This innovative program is jointly funded with the Government of Canada through Global Affairs Canada and receives additional support from CODE supporters.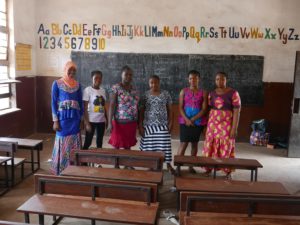 Ritta is one of thousands of unqualified women and men volunteering in classrooms across the country because of the shortage of qualified teachers especially in rural areas.
She says she aspires to go to teacher's college, but she simply could not afford it, until now.
"I chose this career purposely to help nation building as education is the key to every country's national development," she said adding that she wants to help the next generation.
More boys in the country complete school than girls. The same discrepancy exists for the number of qualified teachers. According to Statistics Sierra Leone, 70 per cent of all the trained and qualified teachers in primary classrooms are male.
CODE, and its long-time partner organization The Association of Language and Literacy Educators (TALLE) are working together to deliver this much-needed program. TALLE brings a local voice and the expertise to every aspect of TGEP, including the delivery of the scholarships.
The scholarship Ritta and 99 other women are receiving covers tuition costs, textbooks, registration and a modest living stipend for three years, which is the duration of the teaching certificate program.
Women in between the ages of 20-35 years old were eligible to apply and preference was given to women already volunteering as community teachers at the primary level. CODE received applications from 210 women for this uncommon opportunity to be educated and certified as teachers.
Yenor also applied for the scholarship and was accepted. She says she sees this scholarship as an excellent opportunity.
"Since I became a teacher I have already grown to love the field and I would love to help as many pupils as I can in the future." She said she will proudly serve not only her community, but she hopes that the entire country will benefit from the knowledge she gains.
All learning is done via distance education. Qualified female teachers serve as mentors to the women as well since practical wisdom cannot be learned from a textbook.
Scholarship recipients have committed to teaching for two years at minimum in a government, government-assisted or community primary school, once they complete their studies.
For many of the participants, the opportunity to earn a professional degree and earn a salary is a game changer and will allow them to be independent.
Mariatu is a mother of two children, one of which she gave birth to while completing her secondary school. She says raising a family has not killed her dreams of pursuing her education.
"I believe it is only education that will help me move above this level. I absolutely do not want to end my career as a dependent house wife."
Improved learning outcomes not only help the women training to become teachers, but it will contribute to young girls' ability to pursue further education, secure decent employment and make informed decisions for themselves.
We would like to thank the Government of Canada and CODE donors for their support. We wish every success to all scholarship recipients as they continue their studies.