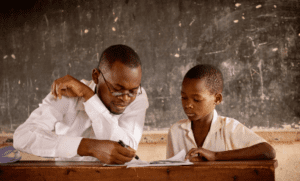 CODE, The Association of Language and Literacy Educators (TALLE), and the World Bank are working together to test a variety of teacher training models to enhance effectiveness of early-grade literacy instruction in Sierra Leone.
According to UNICEF, only five to six percent of children in Sierra Leone are reading at a proper grade level by grade four. This is typically the year by which all children should have mastered basic literacy skills. The most effective way to improve learning outcomes is to improve the quality of teaching.
The project titled REACH stands for Results in Education for All Children. The objective of this research is to improve the reading abilities of grade one to three students through the professional development of in-service teachers, many of whom lack basic teaching qualifications.
Early-grade literacy has been labelled as a point of urgency by the Sierra Leonean Ministry of Basic and Senior Secondary Education. In their Education Sector Plan, 2018-2020 they identify teaching children to read as the key target for all primary schools. The government appreciates the strong correlation between reading abilities and a higher quality of life.
The project started in spring 2019 and is one year in length. It seeks to determine which of four distinct models of teacher development will yield the greatest long-term impact for both students and teachers in Sierra Leone, and in the most cost-effective way.
A total of 360 teachers from 120 schools have been divided into four groups of 30 schools each, and are being supported by 16 trainers/coaches.
One group will participate in a traditional "cascade model" of teacher training through a series of workshops and provision of guidebooks. The remaining groups will participate in a single workshop on literacy instruction and be supported through Communities of Practice receiving varying degrees of support from education coaches and cluster-groups of peers. With one group, the impact of monetary compensation for participation is also being tested.
Research results will help to inform future investments to strengthen the teaching workforce in Sierra Leone, and will be made available publically to benefit decision-making in the education sector more broadly.