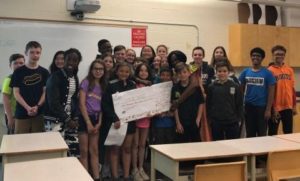 On Thursday, June 20th, "globally-minded" students at Maple Ridge Elementary in Ottawa, Ontario had the unique opportunity to meet the Deputy Minister of Education from the West African country of Sierra Leone. This event came on the heels of students raising funds for CODE's Reading Liberia 20/20 Program.
​Grade 5/6 students put their own spin on the well-known Canadian show, Dragon's Den. While learning about the United Nations Sustainable Development Goals (SDGs), students were tasked with researching an organization that is currently working towards one of the seventeen SDGs. In groups, students brought a pitch to the Den for a fundraising initiative to support the organization that they selected.
​The group that gained the most support chose to hold bake sales for CODE in support of SDG #4: Quality Education. The school community's generosity surpassed all expectations allowing Kathy Michaud-Roussel's Grade 5/6 students to double their initial goal of $500, raising $1050.05.
​The Honourable Emily Gogra shared with the students about the impact their hard work will have upon the lives of students like themselves who do not currently have access to educational resources in their classrooms. The class' gift will be used tosupport the development and distribution of culturally relevant books to over 46 schools in Bomi, Margibi and Grand Basa counties in Liberia.