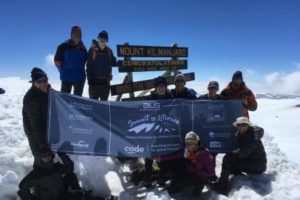 On July 9, 2018 CODE's Kili Climbers reached the summit of Mount Kilimanjaro, standing at 19,340 feet!
These last days were not easy: the team conquered the Barranco Wall (one of the most challenging parts of the climb), braved the cold winds at Barafu Camp and walked the winding, rocky paths up along the rim of a crater to summit the mountain. In spite of all the challenges, the climbers' rewards — the dramatic views from the "roof of Africa" combined with the satisfaction of helping hundreds of thousands of children to reach their full potential through literacy — makes it all worthwhile.
We are so proud of all of this year's participants and humbled by this remarkable accomplishment. Not only have they triumphed over immense personal and physical challenges on the climb, they are, as a direct result of their hard work, making a very real difference in the lives and livelihoods of African children and their families.
Their fundraising efforts on behalf of CODE mean greater access by children and youth to better quality education through the increased supply of much-needed learning materials, and to teachers with the skills to ensure successful results. It's hard to imagine a more important cause – education empowers, and the opportunity to be educated is central to human development.
We wish to extend an extra special thank you to Chris Bredt, the instigator of the Summit for Literacy, and climbed Kilimanjaro in support of CODE for the fourth time!
We're also grateful for your support; thanks to your generosity, the climbers have raised $163,154 so far to support CODE's programs in Africa. If you haven't already made your donation, please consider making your gift today  new link to DONATE to recognize the extraordinary efforts of our climbers.
Thanks to everyone too who helped up spread the word on social media. Please check out our Facebook, Twitter, and Instagram accounts for more news from the mountain — we're waiting for a picture of the team at the summit and will share as soon as it's available!
Congratulations to one and all.